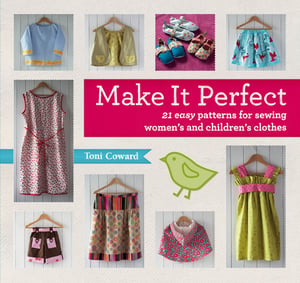 $

34.95
{NOTE: All books will be signed by the author. If you would like a special message in your book, please email me or add a message when you pay via Paypal. Your order will be posted within 1 week from purchase date}
I'm so excited about my first sewing projects book with Penguin Books Australia!
With Make It Perfect you'll discover how fun and easy it is to make clothes for yourself, your friends and your kids.
There are gorgeous garments for women, and cute outfits for children aged 6 months to 5 years. All of the patterns have straightforward instructions, clear step-by-step illustrations and full-size pattern sheets with a pocket in the back for easy storage. Simply choose a project and select your favourite new or vintage fabric to create a unique look.
It's a wonderful feeling to creating a stunning item of clothing and to be able to say, 'I made it myself!'
Release Date - 22nd November 2010
Format - Hardback, 144 pages
Visit www.makeitperfect.com.au for more information, images and to see other patterns.